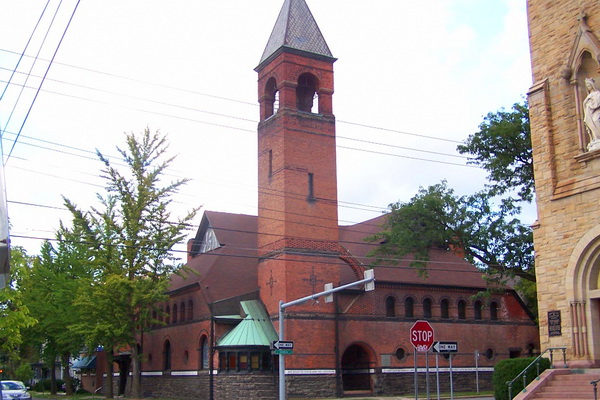 Welcome to the St. Catherine Greek Orthodox Church Website
News This Week at St.Catherine
Thank You: We thank all who donated and contributed to making our parish feastday a wonderful celebration. May St. Catherine pray for us.
Calendar: The December parish calendar is included in the bulletin and available online. Keep one to stay informed of our services and events.
Election: Parish Council Elections will be held on Sunday December 5th. All parishioners in good standing are encouraged to vote.
Christmas Card: Once again we'll be sending out a beautiful Christmas greeting card to our St. Catherine community. Please fill out the names on the form as you would like them to appear in this year's card and return to the church, along with your donation, by Sunday, Dec. 5. If you're not on our mailing list, you will find forms in the back of the church. Checks can be made out to St. Catherine GOC. For Questions please call Paulette at 607-279-6641.
Sunday School:
Classes are in Thanksgiving Recess and will resume on December 5th.
Prayer Lists: Please let us know if there is anyone you would like us to pray for as a community and also update us about those that our currently on our lists. Please submit any names to Fr. Stephen.
Visitation Ministry: Fr. Stephen would like to visit those who are in the hospital or cannot get to church. Please let him know if there is anyone he can visit.
COVID Precautions: We strongly recommend wearing a mask while in the church facilities out of caution for the coronavirus. Masks and hand sanitizer are available at the entranceways.
Salvation Army Christmas: Philoptochos is kicking off the Salvation Army Christmas gift drive. Monetary donations should be made out to St. Catherine GOC Philoptochos, with Salvation Army in the memo. Please see Angela Teeter (315)-406-1521 or ange-laht@ymail.com for more details. All donations received go to making a child's Christmas list complete. Let's continue this generous tradition of making children's dreams come true!
Coffee Hour: Please consider hosting a coffee hour and sign up for a Sunday on the board in the hall. See Sophia Georgiou King for questions. We thank Philoptochos for organizing our fellowship time.
Livestream: Join us for services on our YouTube channel "Saint Catherine GOC Ithaca" if you can not make it in person. Past ser- vices are also available to watch. We encourage you to subscribe to the channel to stay updated with our broadcasts. Our direct link is https://youtube.com/channel/UC5ZR00FiDn92tsdQIipJ5zA