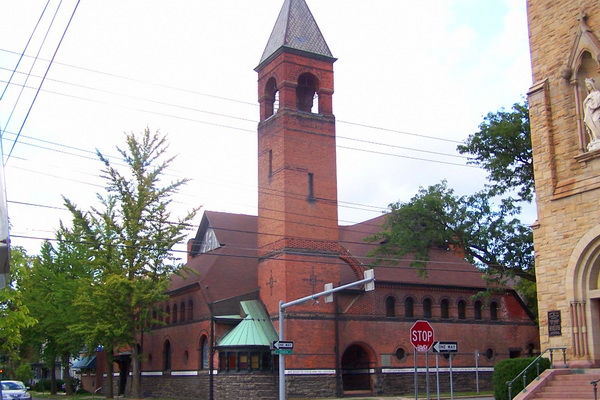 Welcome to the St. Catherine Greek Orthodox Church Website
News This Week at St.Catherine
Greek Independence Celebration: We will have a brief program in the church today to celebrate the 200th anniversary of Greek Independence. We welcome dignitaries from Ithaca City who are joining us for this special occasion.
Monthly Calendar: The April Parish Calendar is included in the bulletin and is available online. Keep one to stay informed of our services and events. Confessions: Fr. Stephen is available for Confessions on Saturdays after Great Vespers or by appointment. Lent is a time of repentance and paying closer attention to our spiritual life.
Lenten Flowers: Donations are welcomed for flowers for the Lenten season to decorate icons of the Theotokos for the Saluations/Akathist Services, the Feast of the Annunciation, and the Sunday of the Holy Cross. Please send donations to the church office or see Fr. Stephen if you wish to make a specific donation. Holy Week will be a later separate appeal.
Philoptochos: Sadly, due to the ongoing COVID-19 pandemic with new more virulent strains now in NYS & Tompkins County, CDC guidelines about not gathering, and an abundance of caution, our Easter Bake Sale, which is normally held on western Good Friday, is postponed. At this point, we have NOT set a date for a late Spring Bake Sale, BUT, we are discussing it. If we do proceed with a bake sale event this spring, you all will be the first to know!
Philoptochos has begun working on a special project toward feeding the hungry in our community by helping Loaves & Fishes (who at this time are packing approximately 200 takeout meals each day!). We hope to do this in two different ways: Lenten Season FOOD DRIVE, and BAKED GOODS (as well as monetary contributions). If you can help or would like more information, please contact Candy Filios (387-3428 or cfilios@ottcmail.com) ALL ARE WELCOME TO HELP OUT!! You need not be a Philoptochos member! The Philoptochos Zoom meeting scheduled for today has been CANCELLED.
Parishioner Info: We are in the process of updating our parish lists and creating a database of helpful parishioner information in order to better communicate with parishioners and develop ministries. Parishioner Information Forms are available in the narthex. Please submit competed forms to the church office. The information will be used only for parish purposes and not given to outside sources. Information is voluntary and questions are optional, but we hope you will fill out the form completely so we can best serve you. Please help us out by taking the form to someone you know who is not on our mailing or email lists. Contact Fr. Stephen if you have any questions.
Sunday School: Classes are being held virtually through zoom on the weekends. We ask families with children to provide the teachers with emails so they can send the children invites to the class. See Fr. Stephen for a registration form and questions.
Livestream: We are broadcasting our services on YouTube for those who are staying home and for those who would like to join us from afar. Our channel is "Saint Catherine GOC Ithaca" or you can use the link https://youtube.com/channel/UC5ZR00FiDn92tsdQIipJ5zA. Past services are also available to watch.
Coffee Hour: There will be no coffee hour or socializing following services until further notice. The church hall is closed. Please exit the church following the dismissal of service.
Tray: No tray will be passed after services. Please leave any donations in a basket in the narthex, mail them to the church, or use our website with PayPal, a credit or debit card. Thank you for your support.